STRUGGLING WITH GUILT?
Some of us have been hard pressed with disappointments and life has thrown at us things that we never imagined. We are where we never thought we would someday be and have lost a lot. I just want to remind you that your mess doesn't disqualify you, but the final defeat that will make the devil dance "tungba" on your matter is if you also lose your voice.
Of course Satan is constantly at work to remind us of our shortcomings and inadequacies but we can kick the devil in the butt by refusing to be silenced.
One time we had a non religious women conference somewhere and we were brainstorming on the best speakers to invite. I recommended someone and you should have seen how eyes rolled when I mentioned her name. The person I suggested is a believer with integrity who also has had a bad marriage. "Why on earth will you sister Yimika suggest her to talk to the married ones?" They asked.. Well, I was seeing a fabulous gifted woman with integrity and you all are seeing a divorcee. I was close enough to her to see the vessel that she is made of. I wasn't saying she should be the main speaker but just allow her be one of the panelists who will tackle questions I insisted.
I kid you not, this woman whom they reluctantly accepted had many women in tears at the end of the conference. Not sure anyone remembered what the seemingly "perfect life" speakers said but this woman acknowledged her mistakes and threw a whole lot of weight into helping women avoid her type of mistakes and doing things in a better way than she did. She struck some chord on our hearts no doubt and It was an awesome conference we will not forget in a hurry. We had homes restored because of this.
In reality, some will even remind you of why you have no right to talk, but again I say to you that the fact that you have had a personal negative experience and have picked vital lessons should help you even better and not drown your message.
Imagine if the late Ibidun Ighodalo waited till she had her own kids before she feels more qualified to talk to and help others in similar need. She left behind a lasting legacy because she forged on regardless.
We do not have a perfect life but the truth remains the truth regardless of our own personal negative experiences. Some lessons in life I learnt them early, some I did a bit later but the timing doesn't make them any less valid. Stop seeking approval from the world to shine through, you will end up living much less than you were created to.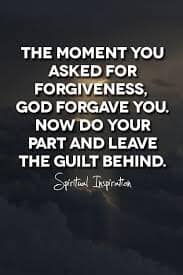 A mother for example may scream to the heavens at her young daughter for chasing men and aproko people will say "is that not exactly what she did when she was young? Why is she now shouting as if she is a saint? Pretender. we know her past!" No she never claimed a saint, and because she went through it and it landed her in many avoidable pain is the more reason she is a true mum and will not open her eyes and watch her daughter tow the same line and harvest same consequences. She will be a horrible mum to dilute the truth or keep hush and leave her daughter to similar fate.
If you ask God for forgiveness genuinely, He has forgiven you of every past even if it was your fault so do not allow the enemy put you in fresh bondage. Oh, how he loves to play the last card of guilt tripping you and making you feel unworthy. At least if he couldn't stop you from receiving forgiveness, he might as well keep you shut forever and nurse guilt.
It's time to break free! Do not agree to stay down and if anyone is looking for you in your past, tell them you have long moved. You are not where you use to be. In other news, the person they are looking for no longer exist and answer your new name with pride.
Written Yimika Anita Okeowo
Picture credit: Pinterest
For I will be merciful to their unrighteousness, and their sins and their lawless deeds I will remember no more" (Hebrews 8:12).
As far as the east is from the west, so far has He removed our transgressions from us" (Psalm 103:12)