Body Shaming has got Nothing on you Dear Woman!
Plus sized women are a  big target for people who love to body shame others.
And the part which surprises me is how some plus sized women cower, and allow themselves to be body shamed while they stew, and resign to this shame.
One thing that can NEVER affect me is body shaming.
I have had this self confidence in how I look right from when I was a teenager.
Having children, and aging by the day can not change my thought towards myself.
I believe and know that I am a beautiful, unique, gorgeous, classy, and an intelligent woman.
I have changed body wise, and added weight but this has not deflated my self esteem.
I know how to change my look however I want to change it.
Sometimes I look ordinary, just like the everyday woman.
Other times when I want to bring out my pretty self,  I take extra care of myself, get some beauty sleep, apply some skin deep facial treatment and I am looking transformed, glowing and pretty.
I know how to carry myself very well too.
Body shaming does not work on me, I guess it's how I have conditioned my mind.
If I exercise, it is to keep fit, and not to follow trends because I am my own trend, no trend defines me.
Dear woman I need you to recondition your mind regarding your looks.
That your body changed as a result of child birth does not mean your beauty faded.
That you are now a mother does not mean you are now the new definition of sloppy.
I understand that raising a family can deprive us of the money we need to take care of ourselves sometimes, but don't allow your beauty to fade out as a result of  years of stress.
Don't allow the added weight to make you sink into an "I don't give a damn about how I carry or present myself anymore."
"Come on dear sister, ginger your swagger!"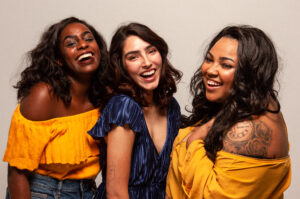 Sometimes stress is one of the things that diminishes our beauty, and make us begin to view ourselves as no longer beautiful, and gorgeous.
We lose our A game and communicate this through our body language to people out there.
The trolls and bullies would smell this and begin to body shame us in other to belittle us.
You are beautiful dear woman, and I need you to begin to think about that right from the deepest part of your heart and carry yourself as such.
Once you think it, then you feel it.
It radiates all over you, and your skin begins to breathe better.
Get rid of any kind of toxicity around your life.
Purge yourself of every form of bitterness and toxicity.
Be happy, choose love, keep fit, glow, love yourself and every inch of your body.
The only emotion you should feel for those who body shame you is pity.
They should even amuse you.
It shows an emptiness inside of them.
Don't let them get to you dear woman.
You are beautiful and wonderfully made, begin to carry and treat yourself as such.
Have a blessed week ahead.
Thank you for visiting my website, please share with your friends if you got value.
PS: Do you want to publish that book you have hidden for so long and believed no one would read or buy?
Then my company Hadar Creations is set to help you.
You need stock photos for your projects that are free of Copyright hassles?
Then you have come to the right place, I have about 2 million stock photos on my publishing platform that you can use for a token.
Just send an email to ooainspires@gmail.com or oluwatosin@hadarcreations.com